Wyn Morton has been serving on the Brewster Golf Commission since 2015.  In addition, he has been a PGA Tour volunteer and writes about his exploits at Diaryofapgamarshal.blogspot.com
Volunteering at PGA Events in a Time of Pandemic
Responding to the Challenges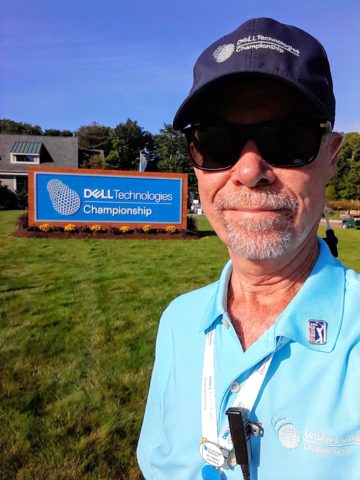 Not another article about life in the time of plague!  I know, I know, but if you're insanely passionate about volunteering at PGA and USGA events as I and thousands like me are, you've got to vent about the tremendous loss this year has been. I volunteer each year at the FedEx Cup at TPC Boston, otherwise known as the Deutsche Bank Championship, the Dell Technologies Championship, and now the Northern Trust. Add in four US Opens, a Presidents Cup, and the Traveler's Championship and that's 16 events since my first in 2009, or another way of adding it up is 65 days on course, inside the ropes, 12 hour days, sometimes in scorching heat and humidity, walking up to seven miles in a shift, serving as a Mobile Marshal crew leader. As an unpaid volunteer. FYI, I have to pay for the privilege! Yet, me and thousands of others have all received the emails this year, first postponing and rescheduling, then outright declaring that our services would not be needed due to the lack of spectators.
It was especially tough hearing from the USGA as I had registered online in early February 2019 for the 2020 US Open to be held at Winged Foot. Sixteen months ahead for heaven's sake. I eventually got my preferred committee assignment to what the USGA terms a "19th Hole Marshal", sort of like a marshal's bullpen, for experienced marshals only, with the potential for becoming a "roving marshal", inside the ropes. I was especially looking forward to having my son Brian along with me for this experience as he'd earned his pedigree as a mobile marshal at the 2018 Dell and 2019 Traveler's. I was also signed up to volunteer for my eleventh year at the FedEx Cup/Northern Trust, originally scheduled for August 12-16, 2020.
On April 6th, 2020, I received the news that both the US Open and the Northern Trust were being rescheduled, from June to September and from early to late August, respectively. Unfortunate, but I could live with that under the circumstances. I was actually glad to know that both of these big time championships were trying to accommodate a vastly changing and evolving paradigm, yet still find ways of staging what is always a huge enterprise. But as we all know, the reshuffle was really only the beginning. Just stop and think about this for a second.About 1500 volunteers pencil in that week in late August/early September every year to volunteer at TPC Boston for the FedEx cup event. Year after year.Some volunteers I've met have been at it for 30+ years when you combine their other assignments, primarily at the Traveler's.They take a week of vacation time off, book hotel rooms on their own dime, travel from outside of Massachusetts for the privilege and experience of working with the pro's of the PGA Tour, and in the case of the Mobile Marshals, getting to walk with them inside the ropes for 18 holes for up to 5 days.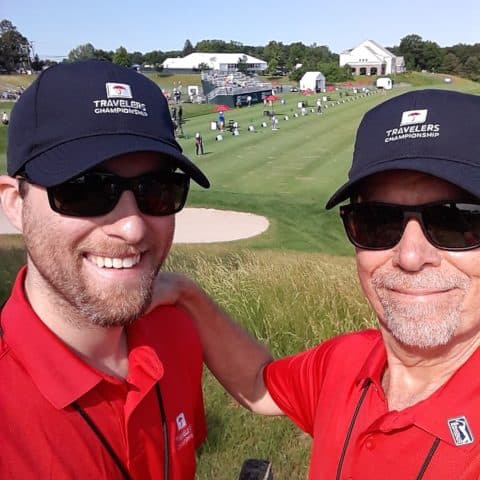 For the US Open, roughly 5,000 enter the online lottery for the possible selection to volunteer, and then maybe getting only their third choice of assignments after all that advance waiting time. Add to that the nearly impossible task of securing affordable accommodations within driving distance of a US Open site and then having to reshuffle your plans. As of April, I was still planning on attending in September, although my son was not so sure of his availability. Thankfully, my 92 year old father-in-law lives about an hour away from Winged Foot, and I was frankly looking forward to spending some time with him, Dan Heffernan, Sr., a legend in Connecticut sports, look it up.
But then the Travelers was held in June without any spectators and it was weird. That was the word being used over and over again by my friends who have volunteered there for years, decades even, commenting on Facebook how different the atmosphere was without cheering galleries. How different the place looked without corporate pavilions, grandstands, and people standing 5 deep along the fairways or thousands surrounding the stadium-like 18th green. Pretty much silence when Dustin Johnson won.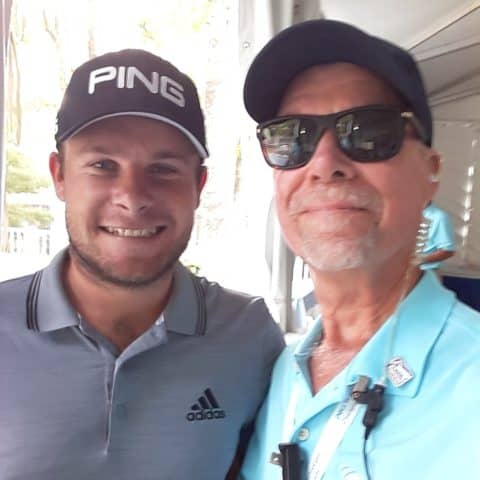 Then the final shoe dropped, in July the FedEx Cup canceled all spectators and three weeks later, the US Open followed suit. We all received emails detailing that our volunteer services would be reassigned, or in both of my cases, eliminated for 2020. The Northern Trust politely but firmly said, do not show up at the course, you will not be allowed in. We were given the option of going on a waiting list for potential cancellations on other committees, but no mobile marshals would be necessary to marshal for a non-existent gallery of spectators. So, this was really happening.
The Start of an Obsession
So, what got me into becoming a mobile marshal? I have to blame what has become an addiction on my late friend Barry Souder, you can also look him up too, he was a legend in Massachusetts athletics. He marshaled at the 2000 US Open at Pebble Beach, you remember, the one that Tiger won by a mile. I was so impressed by his stories of being able to marshal at the 18th tee. I never envisioned being able to do that, I figured he'd used his coaching connections to secure a spot, so I just put it in my bucket list. Then, the Fedex Cup started playing in my backyard at TPC Boston. In 2009 I looked into it further and found out I didn't need any connections to become a hole marshal, I simply signed up online on the Deutsche Bank Championship website and got assigned to the 12th hole. Paid my $65 and got the volunteer uni (shirt, hat, windshirt, parking passes, entry credential, guest passes). After attending a training session on how to be a PGA marshal, I showed up at the 12th tee box on the first day of the DBC and learned for real how to marshal. That first year I learned several things.One is its way more tiring than it might appear to stand for 6 hours in the hot sun. Granted, our hole captain was very organized and rotated me from the tee to the gallery crosswalks and to the green every few hours, for variety sake. A couple of memories I'll share from back then. Standing on the tee with Tiger only 15 feet away was incredible. I was instantly starstruck just to be in his presence. I had one thought at the time as my mind went blank, he's 3 inches taller than me! The gallery standing behind me on the other side of the ropes was at least five people deep, every one yelling at him, trying to get his attention, but he looked right at me for a split second. I eventually got comfortable being in the presence of all the pro's on the PGA Tour but that moment still sticks with me.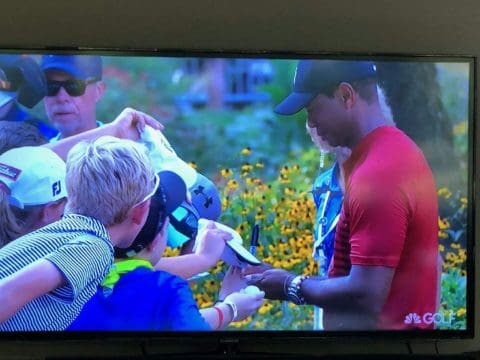 A second memory as a hole marshal wasn't so pleasant, involving J. B. Holmes. I was stationed for about an hour at the left side landing area, with a handful of the little orange flags they gave us to mark any wayward drives that landed in the rough so that the players and caddies could locate the ball easily. Evidently Holmes wasn't too happy that his drive landed in the spinach as he plucked the flag from where I'd placed it and threw it like a lawn dart at my feet, growling "Thanks" in a tone that meant quite the opposite. I was later informed that some players object to having attention drawn to their mistakes. He went on to shank his next shot and missed the cut. Can't say I was bummed too much about that.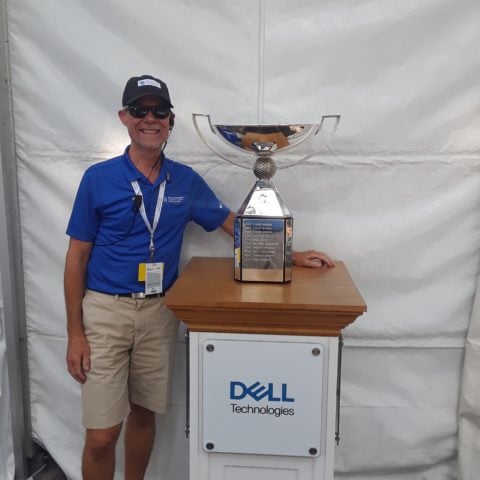 But seeing each group of players just briefly as they came through 12, interspersed with lots of time in-between groups got a little tedious. I'd noticed walking marshal crews accompanying the marquee players, "mobile" marshals it turns out, who provided extra help to handle the enormous galleries walking along with Tiger and Phil, with somewhat smaller crews for smaller galleries attached to guys like Rickie, Bubba, and DJ. That looked like the opportunity of a lifetime, to walk inside the ropes with the players, from the first tee to the 18th green, then on to the scoring trailer, interview area, and autograph row. And that's what I've done every year since, up to 2020.
Some memories stand out:
Exchanging a "Good morning" at the 1st tee with players and actually receiving a pleasant response, a smile, a head nod, and a hand shake even from Jason Day, Justin Thomas, Rory McIlroy.
Getting to meet players and take selfies with them at the volunteer pavilion during the FedEx Cup pro-am each year, (Brandt Snedeker, Ryan Moore, Tyrrell Hatton, Lucas Glover, Rio Ishikawa, CT Pan).
Posing beside the actual FedEx Cup trophy.
Having a quick chat with Rickie Fowler at the President's Cup, and with Sergio Garcia at the DBC pro-am.
Directing Tiger into an evacuation van beside the fifth green during a rain delay and finding out that my family witnessed the whole scene from a few feet away. I'd been able to score extra guest passes for them. My son Brian said. "Dad, you just told Tiger Woods where to go!"
My great friend and marshal buddy Mike Bittrich tells the story about getting to ride along in a cart seated beside Ian Poulter being transported on the long path between the 7th green and 8th tee at TPC Boston. The volunteer driver was seated next to Poulter's caddie up front, who was opening a bit of candy for himself. The driver asked him if he was going to share any of that with Mr. Poulter, drawing a negative response in return. To which Poulter replied,( english accent required), "Oh yeh, well I wouldn't give Nigel the steam off me piss !!" Another time, shortly after another Ryder Cup loss by the American team, Poulter was on the short end of a lot of negative comments coming from the gallery. My marshal crew was mostly successful in keeping things from getting out of hand, but there came a point when Poulter had to vent his feelings. Or maybe he just had to take a leak really bad, which he proceeded to do mere steps off the 12th tee, standing about a hundred feet away with his back to the gallery. Something about Poulter and urination I guess.
Marshaling at my first US Open in 2011 at Congressional with my buddy Jim Penn and having to talk our way into borrowing a cart (which was entirely against volunteer policy) to then drive all the way along packed cart paths to the opposite side of the golf course to the will call ticket window so that Jim could pick-up his volunteer credential.
Jim and I gaining entry into the famous clubhouse at Merion at the 2013 US Open, this time legally. We'd received orders on the radio headset to seek immediate shelter from an impending thunderstorm.We happened to be standing next to the clubhouse at the time, told the gate keeper of the circumstances and he let us in. Jim and I proceeded to find an out of the way spot on the veranda hard by the first tee, just us, the players, caddies, wags, and members.I told Jim, "Just act like we belong here" while we waited out a 45 minute rain delay. As it turned out, we were able to gain entry to the clubhouse every day after our shifts since the guy at the gate recognized us. The little bar off the main dining room was all ours, free beer even.
The crappy AirBNB accommodations I had in Pittsburgh for the 2016 US Open at Oakmont, being completely outweighed by the sheer magnitude of the golf course, every bleacher packed, the galleries 10+ deep, the palpable electricity in the air.
Ditto for the 2018 Open at Shinnecock!
Seeing tears in the eyes of my great friend and fellow mobile marshal Tony Landry on the last day of the 2018 Dell Technologies Championship at TPC Boston as we said our goodbyes at the ninth green, not knowing if there would even be another FedEx Cup at this location, what with the reshuffling yet to be finalized by the PGA Tour. This was also my son's first marshaling experience and he later commented how much seeing Tony's reaction impressed on him what this whole marshaling thing means to us all. He was to accompany me to the Travelers the next year, along with our wives Mary and Lauren, who walked along with us as our own personal gallery.
Knowing that me and my crew played an integral part in making each day of each championship a success. Getting the feedback the next day from our committee chair-people how much the PGA Tour and the players appreciate the job we're doing. And knowing all of the friends I've made along the way and our nearly insane love of what we do as walking marshals year after year. How we've missed it so.
Now what?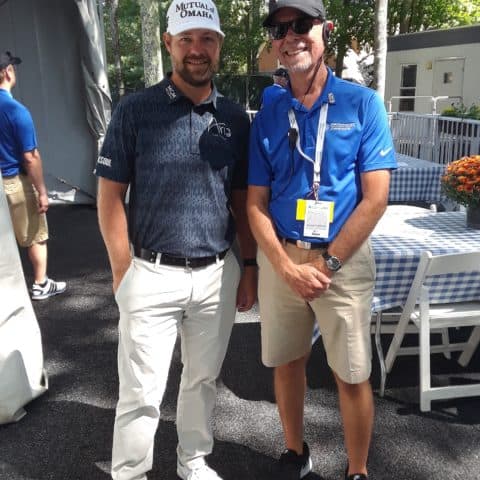 I'm optimistic for 2021 and beyond, but I'm getting on in years, I've even signed up for Medicare! I don't know how many more tournaments I'll be able to handle but I train all year for these things, including running, at my age. I'm planning to get on the USGA website in February to register for the 2022 US Open at The Country Club in Brookline, my backyard almost. I'll also try to entice Brian to sign up as well. I'm also planning on being at the 2022 Northern Trust when it returns to Boston, my eleventh time. Professional golf just hasn't been the same at the biggest events, we all miss the tremendous roars and electrically charged atmosphere. Speaking for myself and the thousands of volunteers who are essential to the overall running of a huge championship tournament, we can't wait to get back, inside the ropes!